PetSafe Outdoor Ultrasonic Bark Deterrent
Do you have a very exciting dog that barks almost all the time? Chasing other pets and animals in the yard? Maybe, your dog loves it when you're both playing but still gives you headaches because of its barks? Then, your lovely pet needs to be told when to be calm and cool.
Dog barking can be so disturbing that it can cause other dogs within their hearing range to bark along. Once a dog barks, other dogs around bark in return. Thus, the whole neighborhood is filled with noises and nuisance created by dogs. Since dog bark is a means of vocal communication among themselves, this has to be caution and NOT STOP.
What Am I Saying? See it this way…
A baby cannot be hindered not to talk so also a dog shouldn't be hindered not to bark but should be reduced.
Which Bark Control Solution should I Use?
There are many bark control solutions out there but there is one with a difference. A bark collar solution that uses the Ultra Sonic means to deter dogs from bark. It is called the PetSafe Outdoor Ultrasonic Bark Deterrent.
So Unique and Effective!
This is a device or unit that deters dogs from barking. Once a dog within its range barks once or twice, it will not bark again. This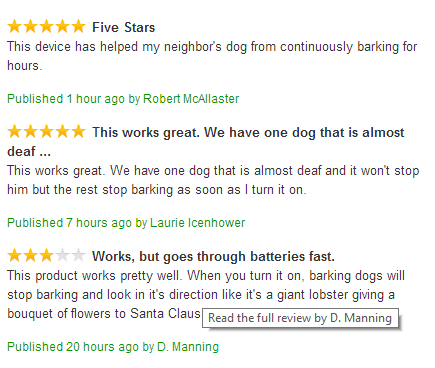 does not train any dog but deter them from barking. It is a durable and weatherproof unit that is designed in a little birdhouse.
With 1, 939 customer reviews and 47 answered questions on amazon as of the posting of this product review, you can see that you' re going for a unit with outstanding performance, durability, and good value.
PetSafe Outdoor Ultrasonic Bark Control Birdhouse PetSafe Outdoor Ultrasonic Bark Control Birdhouse
It has two colors indicators that tells you about the condition of your battery. Recommended Battery to be use for this great unit is a 9v alkaline battery. Please note that this battery is not included on the order. You have to get it separately.
To make it work like charm, don't hang it too high. How High Should I Hang It? You asked.
Well, hang it but not more than 5 feet from the ground level for it to work on any dog. Be it your dog or your neighbor's insane dog, once it is within the unit's 50 feet or 15 meters range, the dog will be as calm as a gentle flowing river.
To make it work like wonder, no obstructions should be between the dog you want to deter and the unit. It only stop sending the ultrasonic sound only when the dog surrender and never bark again within its range.
How Does PetSafe Outdoor Ultrasonic Bark Deterrent Works?
This device has an internal microphone that picks up the dog barking sounds. Once it picks it, the device activates itself. If your dog is within 50 feet range of PetSafe Outdoor Ultrasonic Bark Deterrent, your dog will get the ultrasonic sounds. These ultrasonic sounds from the device can only be heard by animals such as dogs. This is one of the popular devices used when one needs a humane way on how to stop a puppy from barking.
PetSafe Outdoor Ultrasonic Bark Deterrent
Can I Hear The Sound From The PetSafe Outdoor Ultrasonic Bark Deterrent ?
These sounds emitted by the device cannot be heard by humans like us. So, when you need to get a good night sleep and your neighbor's dog or dogs are disturbing, then get PetSafe Outdoor Ultrasonic Bark Deterrent can rescue you.
Pros of PetSafe Outdoor Ultrasonic Bark Deterrent
 It works on Your Dogs and Neighbor's Disturbing Dog within 50 feet range.
It has 4 correction modes for your dog.
It deters dogs incessant barking in a very hidden and harmless way.
Its  Birdhouse disguise cannot be noted if you are using it to deter your neighbor's dogs.
It does not produce disturbing sounds or noises for your hearing.
It can be used indoor and outdoor such as camping.
It gets passersby dogs or neighbors' dog behaving well and calm.
It has the ability to detect repetitive barking of a dog.
It worth every penny spent – a good value for your money.
Free Shipping Awaits Your Order Now.
Cons
To be sincere with you, this unit might not work on about 10% of dogs. Which type? Why? You asked. I will tell you. Well, it is not about the breed or size, friend. You know, dogs have a very keen sense of hearing with their ear open. Only dogs with drop-down ears or dropping ears or covered ears may not receive the ultrasonic sounds emitted by PetSafe Outdoor Ultrasonic Bark Deterrent well.
However, this is just about 10 percent. This device emits a high-pitched ultrasonic sound that is safe and effective enough to stop a dog from barking. No matter its breed, size and personal traits of your dog or that of your neighbor, you can use this device for it.