Have you ever came across an embarrassing moment when your dog is nowhere to found and you are left to wander your neighbor's courtyard? Are you frequently in fear of a car hitting your beloved dog? If you have encountered similar situations, you will know how frightening or embarrassing some would be, however, there is almost nothing you can do about them.
In order to avoid these situations, you can either train your pooch for hours and days or just buy a handy training collar. And obviously, the second option is a better alternative that can allow you to effectively train your dog, without having to go through rigorous training methods. Today, Petronics 330 Yards Rechargeable Shock Training Collar with Remote is one of the finest training collar available for Dogs. It has seen a great popularity among dog owners, who are worried about their dogs being too much of a rebel at times. It has gotten a good star rating on Amazon and consists various positive reviews.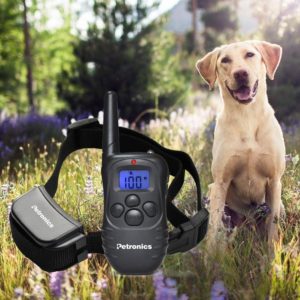 Four Modes of Commands
By using the handy remote that comes in with this Petronics 330 Yards Rechargeable Shock Training Collar , you can easily control your pooch without having to run here and there. This remote has a range of 300 meters and can be quite convenient to use at times. By using this collar, you can engrave the right attitude into your dog. In a matter of days, you will be able to see the positive changes in your dog's attitude. It comes up with 4 different ways to transfer message to your dog, which is as follows:
Light
Beep (Sound)
Vibration
Static Shock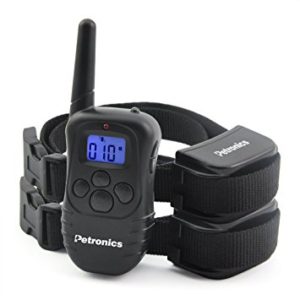 Yes, most of us dog owners would never hurt our precious dog with a static shock, however, on this collar, you can set the shock level to the most minimum. This will only give tingling feeling to your dog and you can be assured that there is no harm done to him externally or internally.
It is designed to deliver various commands like run, sit, come back etc. to your dog through these various modes. With the Petronics 330 Yards Rechargeable Shock Training Collar with Remote, you won't have to worry about your dog's actions or behavior. You can correct your dog actions without any harsh treatments or training methods. By getting this collar, you can be rest assured off having to constantly worry about your pet.
The LCD screen of the collar is easy to read and displays stimulation level of option that you are about to use. It has well over 3,000 identity codes so that it won't conflict with other e-collars owned by your neighbors. The battery of this collar is rechargeable, unlike most collars where you will have to buy new batteries every now and then. The collar can be easily charged within a few hours and be ready to work again.
Products in Package
As it is one of the simplest and most trusted dog collars, it gets your dog to behave nicely once operated. It comes with a waterproof LCD digital remote and contains a rechargeable battery. All the settings can be done manually by the dog owner, and once you order the product, you receive the following products in the package:
1 LCD Remote
1 Receiver and Collar
2 Sets of Prongs Large and Small
1 Light Bulb Test Tube
1 Charger
When you first receive the product, it is best to charge both the collar and the remote to fullest before putting them to use. This ensures that both the products run for a long time and there are no usage issues in them. The collar needs to be charged once every week before it is fully ready to work. The remote transmitter can also be used with two collars at one time.
The collar comes with an adjustable and durable (14-24 inches long) nylon strap, which can easily fit dogs having a weight of 10 to 100 lbs. It is a 100% tested product, as the company claims. The strap is made to provide no discomfort to the dog and unlike many others straps, the dog will feel no itchiness.
Most of the time, vibration and beep will do your job. Static shock can be used occasionally, where you want to prevent a certain situation before it has even started. The 4 modes can be set at different intensity and your dog can be trained to respond to each of them specifically in a different manner.
A Great Deal
Moreover, the collar is a rather cheap buy at just $24.99. It is affordable and a one-time solution for your pet dog. This collar can be termed as one of the finest and most affordable collars available on the market today. And if you own more than just one dog, you can get two collars with one remote at $35.99, which is another great deal considering the functionality that comes with it. It can allow you to control your dog or two dogs, without any hassles.
Petronics 330 Yards Rechargeable Shock Training Collar makes use of a power saving design featured with an automatic standby mode. The light mode can also assist the dog owner to see the dog in low-lit conditions. The LED light on the collar can be lit up by using the button on the remote. Other than this, the ergonomic transmitter is easy to use, and with the use of this collar, you will be able to get a safe training system for your dog, with an auto-protect mode.
Notice a Change Today!
Once you make use of the Petronics 330 Yards Rechargeable Shock Training Collar with Remote, you will be able to correct the actions of your dog appropriately. You will immediately notice a change in your dog's attitude once he/she gets accustomed to the vibrations and light shocks of the collar. Today, the collar has received numerous positive reviews from various people. The collar will allow for you to control your wild dog without having to deal with them too harshly.